</P>
---
Unofficial Jamaican Curry Chicken step by step for Sandy
---
Here is my recipe for unofficial Jamaican Curry Chicken step by step: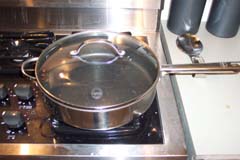 First get a large covered skillet, preferably non-stick.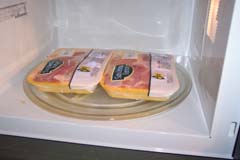 Get boneless skinless chicken thigh fillets. Defrost if needed. I've got about 2.5# here.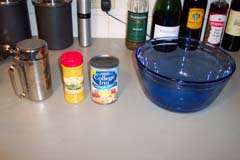 Olive oil, Walkerswood Jamaican Curry Powder, Chicken stock, large mixing bowl.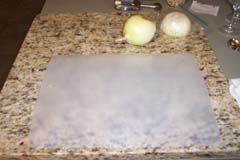 Cutting board and onions. I'm using about 1.5 large onions.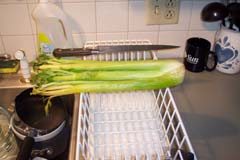 Celery, most of a bunch with the leaves and base trimmed.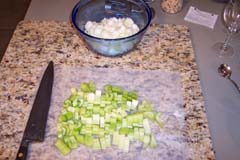 Chop the onions and celery in a fairly coarse dice and place in a small bowl.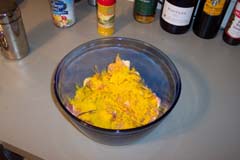 Rinse the chicken in cold water and pat dry with a paper towel. Put the chicken in the large bowl and add olive oil and curry powder. About ¼ cup of olive oil and about 4-6 tablespoons of curry powder to start.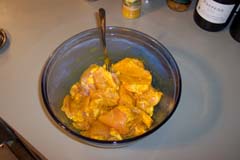 Mix well to coat the chicken with the curry. Add more curry powder if needed.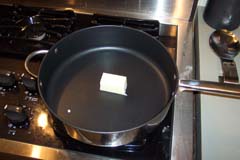 Put about 1/3 stick of butter in the skillet and heat at medium-high.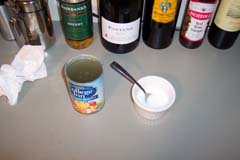 Open the stock. Prepare a mix of 2 tablespoons of cornstarch and 1/4 cup of cold water.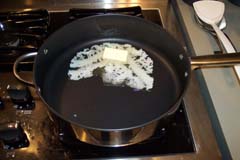 When the butter is melted add the onions and celery.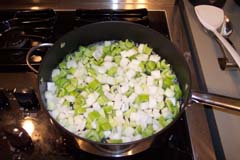 Spread onions and celery out evenly.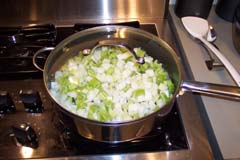 Cover skillet until onions and celery begin to soften.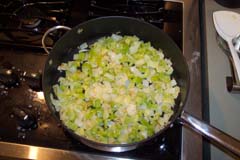 Uncover and continue to saute until onions start to brown.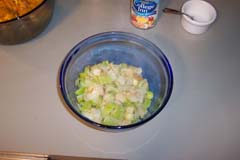 Transfer onions and celery back to the small bowl.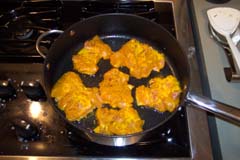 Place about ½ of the chicken in the skillet and brown. Do not overcrowd the pan.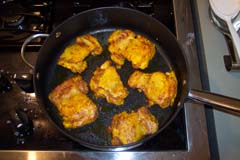 Turn and brown on the other side.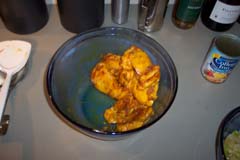 Transfer the browned chicken back to the big bowl. What's that? You're not supposed to put cooked food back in a bowl that held raw food? Bah! Two things wrong with that idea: 1. The chicken is not cooked, it is only browned, and 2. It's going to simmer for an hour after this anyway, not an issue.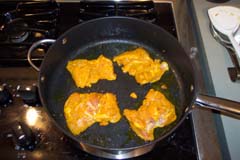 Brown the rest of the chicken.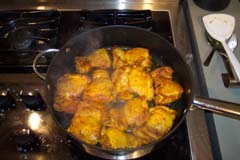 Add the rest of the chicken back to the skillet and arrange in a single layer.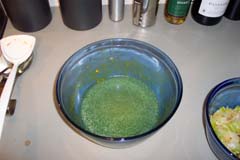 Add the stock to the big bowl and stir to pickup any remaining curry (can't waste any, it's too good).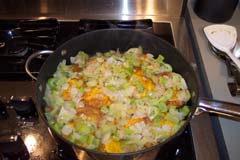 Add the onion and celery back to the skillet.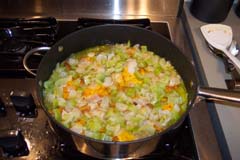 Add the stock from the large bowl to the skillet.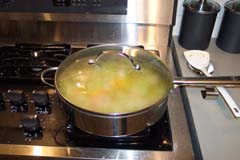 Cover, reduce the heat and simmer for one hour until done. After 30 min add the cornstarch mixture and stir it in.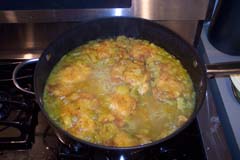 The chicken will be so tender you can barely pick it up out of the pan.